Volkswagen Transmission Rebuild Process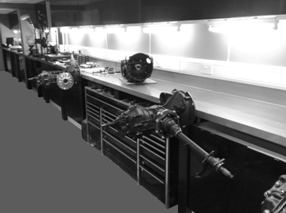 On receipt of your transmission it is carefully stripped and visual inspection carried out. Internal parts are cleaned and inspected for wear / damage. The castings are chemically dipped to remove all traces of grease and gasket material and fine shot blasted to remove excess corrosion. Once cleaned the castings undergo a full inspection any repair / modification work required is carried out this includes but not limited to the following.
Shift housings are refaced when necessary and bearing thrust plate fitted. Shift rod bore is rebushed and new seal fitted.
Gear carriers have First / Second and Third / Fourth selector bores rebushed and when necessary all seating areas for nuts / washer are spot faced to ensure correct seating. Mainshaft bearing bores that are not a tight fit are bored out and oversize bearings or sleeves fitted.
Main casing / Clutch housing Pinion bearing bores are checked and if out of tolerance are sleeved, any missing studs are replaced , and clutch operating shaft and bushes checked and replaced as required.
A final chemical clean is caried out and castings painted in an anti corrosive matt black finish ready for assembly.
Any mechanical parts that are not within specification are replaced with new , performance or graded used (dependant on specification ) and finally go though a ultrasonic cleaning bath ready for assembly.
All modifications and machining work is carried out in house where possible or carried out by our specialist sub contractors.
Once all parts are ready the transmission is carefully assembled and set using VAG and BEARS tools and Jigs .
Special Finishes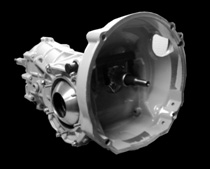 The castings are prepared as for our standard finish. All mating surfaces are protected before the application of finish required
Two Pack Epoxy Paint
Polished Ribs and / or Casting
Powder Coating
Standard colours available are shown and can be gloss or matt however any colour with a RAL number can be applied but this would incur an addition charge.